About Us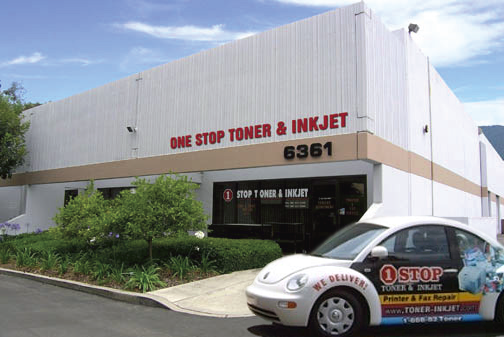 ​
Our toner and inkjet company is based in Carlsbad, CA (North San Diego County). Since 1992, we have been a trusted source for new genuine, compatible and remanufactured toner & inkjet cartridges, drum units and other imaging supplies. We pride ourselves in saving customers money while providing personalized customer service and technical support. We hand-deliver toner and inkjet cartridges, pick up empty cartridges, and provide printer service in the following cities: Carlsbad, La Costa, Vista, San Marcos, Oceanside, Camp Pendleton, Fallbrook, Encinitas, Olivenhain, Rancho Santa Fe, Escondido, Cardiff, Leucadia, Mira Mesa, La Mesa, Clairemont Mesa, Poway, Rancho Bernardo, Del Mar, La Jolla, Pacific Beach, Hillcrest, San Diego, Chula Vista, Lakeside. Although we provide fast delivery service, some of our customers prefer to stop by in person and pick up their order. For faster service, call us ahead and we will have your order ready to go on will call.
We ship via UPS to the rest of California, Oregon, Washington, Arizona, New Mexico, Nevada, Idaho, Utah, Colorado, Montana, Wyoming, Texas, North Dakota, South Dakota, Nebraska, Kansas, Oklahoma, Minnesota, Iowa, Missouri, Arkansas, Louisiana, Wisconsin, Illinois, Mississippi, Alabama, Tennessee, Kentucky, Indiana, Michigan, Ohio, Maine, New Hampshire, Rhode Island, Vermont, Massachusetts, Pennsylvania, Connecticut, New Jersey, Delaware, New York, Maryland, Washington D.C., West Virginia, Virginia, North Carolina, South Carolina, Georgia, and Florida. At this time, we do not ship outside of continental U.S.
We pride ourselves in providing hard to find items, MICR toner cartridges, jumbo toner cartridges, postage meter supplies, 3D printer supplies, imaging units, printer parts, and many other printer related products. One Stop Toner & Inkjet is dedicated to providing you with the right solution for your particular printing need. We don't just sell, but we recommend what product might be better for you. We educate our customers about different cartridge yields, options, and whether compatible or original cartridges might work better for your specific printer. If you are looking for a supplier with flexible pricing and volume discounts, you came to the right place! We will do our best to beat or meet other competitors' pricing. Our company currently provides discounts for active and retired members of the military. We also provide discounts on our compatible or remanufactured cartridges for all Vista & Carlsbad Chamber of Commerce members.
If you are looking for postage meter supplies for your Pitney Bowes, Neopost or Hasler machines and need them fast, you came to the right place! Our Pitney Bowes, Neopost and Hasler inkjet cartridge distribution center is located in Florida as well as California, so we are able to fill your emergency orders quickly and efficiently. Are you looking for Quick Seal or Ideal Seal solution? We carry Quick Seal Solutions in a wide variety of sizes. Most of our Quick Seal and Ideal Seal solutions also ship out of FL or CA. Ask us for our next day or second day delivery options!
Looking for aqueous ink for your special inkjet printing? We have been helping customers meet their special thermal printing projects with our high quality water-based inkjets. Aqueous ink comes in two different types, dye and pigment often referred to as UV. We offer a wide variety of ink depending on your special project from wide-format pigmented fine art inkjet printers or for media designed for outdoor use.
Do You have an ADP Laser Station
printer and need your toner cartridge fast and for less than the name brand? Check out our extensive line of ADP compatible toners to keep you on your way to printing again. We carry the popular and hard to find ADP Laser Station 6100 printer toner cartridges along with their waste toner receptacles.
Are you looking for Nakajima typewriters or supplies? We carry a wide variety of typewriter printwheels, ribbons, platen knobs and other supplies. Check out our latest Nakajima products in our website catalog.
Zebra direct thermal barcode and thermal transfer barcode printer supplies have recently been added to the extensive list of products that we carry. Let us help you find the correct label based on your specific needs.
If you would like to sell your unwanted or surplus printer cartridges, we might be able to help turn your trash into cash! While many older cartridges are obsolete and no longer sellable, there are some that we will be able to pay you for! We will be happy to review your list of unwanted inventory to see what we can offer you. In many cases, if we cannot pay you, we will at least recycle your unwanted cartridges to take them of your hands and keep them out of our landfills. Over the decades, we have recycled thousands of empty and unwanted cartridges!
Many of our clients have been with us for more than a decade, and we are truly grateful for such a long-term loyal business relationships. Whether you have been our client for many years or just getting started, we welcome you and look forward to serving you for many years to come!
Whether you are looking to purchase your next printer supplies from our company, seek printer repair or need to have your cartridges recycled, we can offer you a unique solution for your specific situation. We hope that you will not hesitate to give us a call & let us assist you. All of us at One Stop Toner & Inkjet are looking forward to serving you soon!
Our mission is to establish long term business relationships with our customers by providing value in delivering quality products and services with competitive prices.

We offer products for Brother, Canon, Dell, Epson, HP, Hasler, Konica, Lexmark, Minolta, Mita, Neopost, Okidata, Panasonic, Pitney Bowes, Ricoh, Samsung, Sharp, Tektronix, Toshiba, Xerox, Zebra, and many others.
1 Stop Toner & Inkjet, LLC is an independent ink and toner reseller as well as a surplus buyer. 1 Stop Toner & Inkjet, LLC has no affiliation with HP (Hewlett-Packard) and is not a channel partner/distributor. Any OEM Genuine HP Products purchased from 1 Stop Toner & Inkjet, LLC are not covered by HP warranty.
All brand names are Registered Trademarks of their respective corporations and are NOT affiliated with One Stop Toner & Inkjet, LLC, its products or website. All registered names are used for product identification only.

1 Stop Toner & Inkjet, LLC

6361 Yarrow Dr. # A Carlsbad, CA 92011
Phone: 760-431-3756
Toll Free 888-82 TONER (888 828-6637)
Fax: 760 431-2025
E-mail: info@toner-inkjet.com